Noticias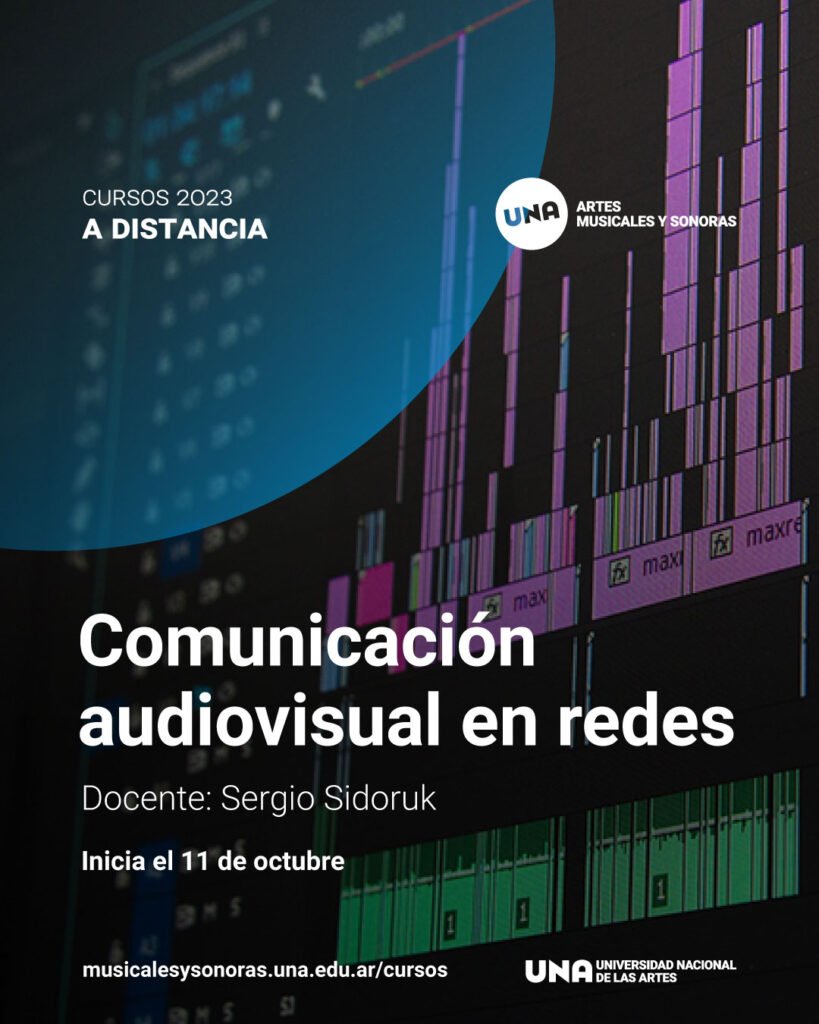 Temas que se abordan de manera práctica:
Clase 1
Formatos de audio/video/imagen
Clase 2
Pasos para la producción y grabación de video.
Clase 3
Técnicas para edición de video. Subtitulado.
Clase 4
Creación y edición de imagen para redes sociales y video.
Clase 5
Audio digital. Grabación y edición. Sincronía con video.
Clase 6
Mezcla de audio digital (métodos y procesadores de efecto).
Clase 7
Live streaming en Youtube, Facebook y Twitch.
Clase 8
Aspectos legales para la subida a redes sociales y plataformas de streaming. Distintos tipos de licencia.
+ Info e inscripción: Click en este link
Biografía
Productor Musical /Músico /
Docente

Nacido en 1983 empezó a estudiar música desde corta edad. Se recibió de Profesor Universitario de Música en la especialidad piano (IUNA) y Licenciado en Artes (IUNA). Ha estudiado composición y arreglos con el maestro Juan Carlos Cirigliano y orquestación con el maestro "Pepe" Carli. Además se ha formado de manera autodidacta como productor musical. Como intérprete ha integrado grupos y bandas de blues, reggae, rock'n roll, jazz, tango, fusión, folklore, gospel y clásico. En los últimos 18 años ha trabajado como arreglador, compositor, productor musical y consultor tecnológico.
Ha realizado composiciones, arreglos, producción artística, mezcla y masterización para más de 15 discos, 2 DVDs, un gran número de trabajos colaborativos online, publicidad para radio y televisión y trabajos experimentales para cine. Ha trabajado en los últimos 15 años como profesor de teclados, grabación y producción, comercialización de la música, acústica y tecnología musical y ensamble instrumental.
Ha dictado clínicas y talleres de música y sonido en Uruguay, Argentina y España. Está casado y vive en Mendoza, Argentina.
Musical Producer / Musician / Professor
Born in 1983 began to study music at an early age. He graduated as University Professor of Music in piano specialty (IUNA) and Bachelor of Arts (IUNA). He studied composition and arranging with Juan Carlos Cirigliano and orchestration with the José «Pepe» Carli. Sergio has also formed a self-taught as a music producer. As a performer has integrated several bands exploring genres such as blues, reggae, rock and roll, jazz, tango, fusion, folk, gospel and classical. In the last 18 years Sergio has been working as an arranger, composer, music producer and technology consultant.

He has made compositions, arrangements, artistic production, mixing and mastering for more than 15 albums, 2 DVDs, a large number of online collaborative works, radio and television advertisements and experimental works for film. He has worked for the past 15 years as a teacher of keyboards, recording and production, music marketing, music acoustics, technology and instrumental ensemble.
He has given music and sound workshops in Uruguay, Argentina and Spain. He is married and lives in Mendoza, Argentina.